Roadmap Survey Results
Published:

Tuesday 6 March 2018
Thank you to everyone who took the time to answer our survey on future features for Flower Store In a Box.
The results were very interesting for us to review and we were surprised by some of the feedback of where people wanted new features. The survey we undertook was by now means an exhaustive review of all upcoming features or feature requests, these were more the most popularly asked about features.
We have a limited R&D for Flower Store in a Box and always prefer to focus in delivering you our valued customer what you want.
Integration with Accounting Packages
The most popular accounting package is most definitely MYOB, closely followed by XERO then Quicken.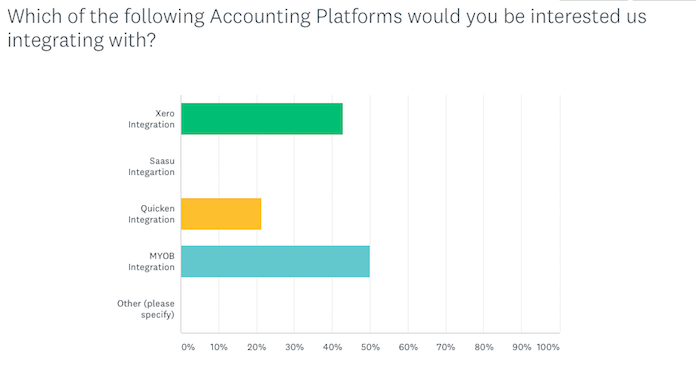 Moving forward we will be integrating basic daily sales and account customers into both MYOB and XERO over the next 6 – 12 months.
Payment Gateways
There was aa lot of interest in many of the various payment gateways that are available with AfterPay being the clear favorite followed closely by the Improved PayPal Payflow.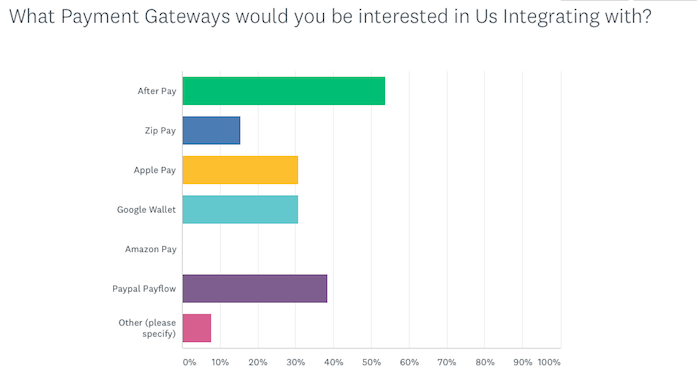 We have been looking at AfterPay for a while and will be working on the initial architecture to integrate with them.
This does not mean we will not include the other Payment Gateways in the future but our initial focus will be AfterPay. It is clear though that both Apple Pay and Google Wallet whilst not huge in Australia yet are going to be significant disruptors in the mobile and desktop payment market.
One surprise was that no one yet was interested in Amazon Pay, however we believe that this is because this payment service is only really new to the Australian market and will grow as Amazon's market share grows.
On Site Feature Requests
We were not really surprised with the very high interest in SMS Notifications for orders made on your websites as this features has been requested a LOT! We are happy to say that we will be rolling this feature out in April 2018.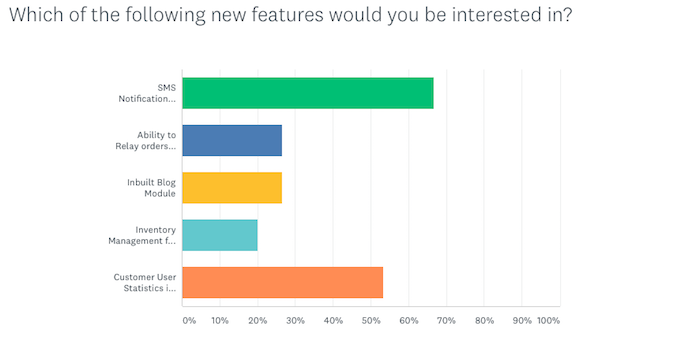 The other feature that did surprise us as the second most popular was the Customer User Statistics. We have some ideas about the tracking and statistics you would like to see and will be doing more analysis and discussions with you to further your interest.
Blog Module
We are very close to releasing our own fully featured blog module so stay tuned for an announcement very soon!
Order Relaying
We definitely have an interest in helping you be able to share orders with trusted florists and your suggestions here have been invaluable!
Marketing Tools
It pretty much seems everyone wants these popular marketing tools inbuilt into the system!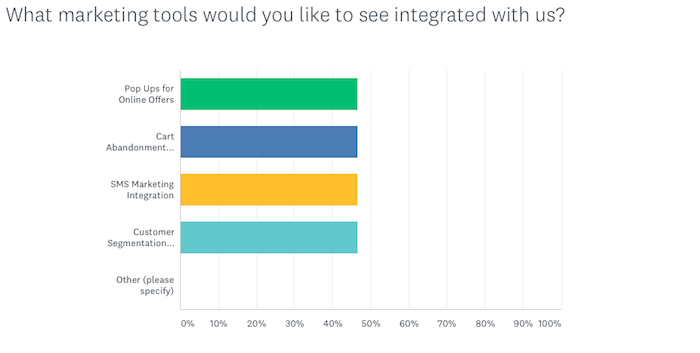 The software currently allows for Cart Abandonment emails however they are delayed for more than 1 day which we have found is not as effective as 1 hour or less for abandoned carts. We will focus on this tool first and then schedule the others as we go.
Thank You very much for responding to the survey!
Tags: New Features, Forward Thinking, eCommerce
Related Articles in eCommerce
Flower Store In a Box is a certified ecommerce solution for accepting Afterpay payments on your website. It's easy to set up just follow these instructions!
Read more
Help! How do I creatively name my floral products?
A client told me the other day they were struggling with coming up with creative names for their floral arrangements and asked for my advice.
Read more